Mute Matt is the Son of Man... well, clearly!
Watch a painting come to life and watch you...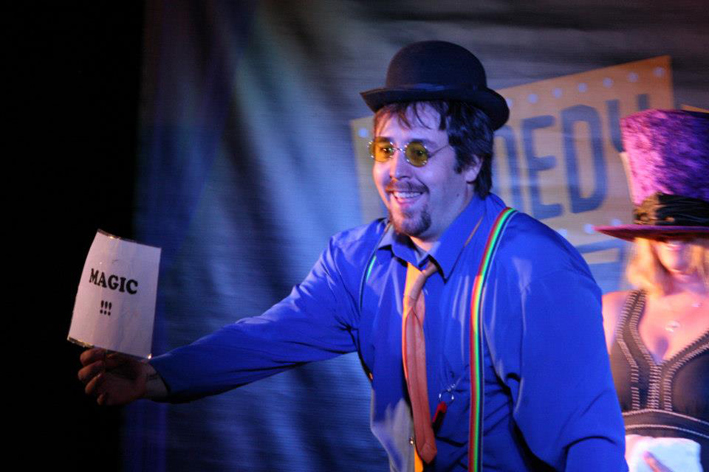 Mute Matt is a silent prankster who can be found anywhere from family friendly events to your typical stand-up night at the workers club.
Mute Matt is a bewildered man who is trying to express himself in a world he doesn't always understand. He takes his cues from vaudeville to embrace the physical nature of the stage and combines it with a bag of props and a killer soundtrack. The joy of the Mute Matt character lies in misdirection. The slow build of each sketch keeps the audience guessing and the folksy charm of the character belies the darkness coming at the end. But just when you think you have him figured out, he turns the tables again.
"Matt Gray brought a silent-movie era feel to nonsensical magic and magical nonsense." - Black Sheep Blog
"Truely inspired silent comedy" - Five Minutes Live

Adelaide Fringe Festival 2014
​Mute Matt is a man of few words… or no words at all actually. Drawing on inspiration from silent films and vaudeville, Gobsmacked is a comedy show where the inanimate come to life. Music, clowning and props help this strange man get through the world. *There will be audience participation!*
The Gobsmacked show sees the Mute cast as Magritte's Son of Man. When the gallery closes for the evening the painting comes to life to explore the world around him. Long lines are drawn with silly sketches, each one culminating in a tableau of a famous painting. The show culminates in the entire audience becoming one large painting with our Mute at the centre.
This show is tcurrently out of tour circulation. While it is still available some re-mount time and costing might be required. Please enquire for more information.
No future dates for this show are currently scheduled.